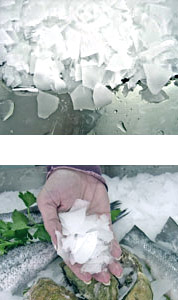 More than just frozen water!

Imagine a Gin & Tonic WITHOUT ICE and a slice! It's like turkey without stuffing.

A hot summer's day, glass of Coke WITHOUT ICE! It's like fish n' chips without salt & vinegar.

What style of ice do you need?

Whether you need it for soft drinks, cocktails, the latest cider, alco-pops or displaying fish or even for laboratory use Air Cool can supply the machine to suit your requirements.

Large crystal clear cubes, smaller cubes, large dice, small dice, round cups, shaved, flaked or crushed. Definitely NOT just frozen water!

No matter how much you use or need to store, Air Cool have some 'ice' ideas!